DistinctivelyDifferentCreative
THIS MIND TO REMAIN UNLOCKED DURING BUSINESS HOURS
<![if !vml]>

<![endif]>
Radio         TV         Outdoor         Print         Web
Mike Berlak
Over 20 Years Broadcast Experience
mikeberlak@aol.com  980-322-2803
A Little Offbeat:
"And now, a commercial for dirt.  You know, dirt.  Great stuff.  Comes in several fashionable earth-tone colors…never gets dirty…and works better than anything else to plant stuff in.  Maybe that's why more people use dirt as the basic ingredient in both their front and back yard landscaping!  If you've just moved into a brand new home, and your yards look like the moon, get some dirt.  Get best quality topsoil from the garden department at Lowe's.  Seven locations around Sacramento.  We invite you to come on by, talk to our friendly Lowe's dirtmasters, and have us send a load your way……" 
Your Attention, Please:
(15-second TV spot for female targeted radio station)…
* Video:  hunky guy sits on stool just smoldering --
Ladies, a reminder to listen to Y92.5 while you work. 
* Video:  guy removes t-shirt revealing station logo tattooed on chest --
Want to see that again so you won't forget?
* Video:  instant replay of shirt removal --
Did we mention the music's more upbeat?
* Video:  full screen logo
Hello?
Heritage:
"Your great grandfather bought his first car right here.  As did your grandpa.  And your dad.  Throughout the years, as automobiles grew into the high tech machines they are today, we've been here.  Throughout the generations…we've been your life-long transportation company.  We're Hallowell Chevrolet, and we're celebrating 75 years of service from our family to yours.  Hallowell Chevrolet.  We're here for you.  On Shaw, just east of Fresno State."
Puts It In Perspective:
"The standard one-dollar bill measures 6 and one-eighth inches in length.
A hundred and two THOUSAND one-dollar bills, laid end-to-end, would stretch 9.86 miles…roughly the distance on I-77 from Uptown Charlotte to the South Carolina state line. 
If you taped them all together, you'd have a ribbon of cash long enough to stretch from the sidewalk to the top of the Bank of America Tower…fifty nine times!
If you spread 'em all out, 102,000 dollar bills would cover all the floor space in five-and-a-half 2,000 square foot homes!
It's a LOT of MONEY!
And one lucky Lite102.9 listener will have 102 seconds to carry away all they can…"
7 Words on a Billboard:
(outdoor concept for new radio station challenging Mix 96, the longtime "at-work" leader)…
<![if !vml]>

<![endif]>
Target Mom:
"Your child has a fever, and YOU have to go to work.  Now what?!!  Now you call 442-6633 because now there's Kids On The Mend, the Sacramento area's only day care facility for mildly ill children.  Kids On The Mend provides you with a sensible, affordable alternative to missing work when your children get sick and they can't attend their regular school or day care center.  Kids On The Mend is a place for children to feel safe, comfortable, and loved, as well as a place to get better.  Kids On The Mend is easy to get to, at 33rd and "J," and easy to use:  Just call 442-6633 and talk to one of the nurses……"
Act Now:
"A couple weeks ago, The Arthur Murray Dance Studio made an incredible offer on this station.  10 lessons, 20 bucks.  A lot of people flat-out didn't believe it.  Some tried to adjust their sets for proper reception.  But the smart ones jammed the lines at 971-35-50 and took advantage of this honest-to-goodness great deal.  10 lessons, 20 bucks for the whole shebang at Arthur Murray.  And, this week only, against their better judgement, they're doing it again……"
How's My Driving?
(bumper sticker for radio station fleet vehicles)…
<![if !vml]>

<![endif]>
Inside Information:
"Psssst!  Listen closely.  Sometime during the next 60 seconds, on this station, we'll tell you how to pay half-price for any set of premium speakers in the store at all Modesto Circuit City locations. 
OK, let's do it now.  To get your speakers at half-price, just do these three things:
One: Go to any Modesto Circuit City location. Two: Go inside.
Three: Buy any complete system (including receiver and CD player) and get the speakers for half-price……"
Hah!
("Head On-style" image sweeper for radio station)…
"107.9 The Link: Apply directly to the eardrums."
Dramatic.  Sort of:
(during the Olympics)…
"Every four years, people from the farthest reaches of the globe gather in a spirit of human cooperation, friendly competition, and good sportsmanship.  (Uh, yeah, that's nice.)  Every day of every year, we're competing to bring you the lowest price on a new Beemer at BMW of Elk Grove.  Our gold-medal deals include 1.9 percent financing on approved credit, and maintenance included for the first four years.  And wait till you see the stunning pageantry in the service department……"
Theater of the Mind:
(radio station contest)…
"A big bag of money sits precariously perched on the diving board.  At any minute it could just up and cannonball into the pool!  Creating what experts refer to as a giant summertime "Splash of Cash!"  When you witness this phenomenon (weekday afternoons on Lite102.9), be caller 25 at 1-866-525-WINS and scoop up five thousand dollars in cool, soggy, wet cash.  Ahh…refreshing!"
Local Connection:
(website caption)…
<![if !vml]>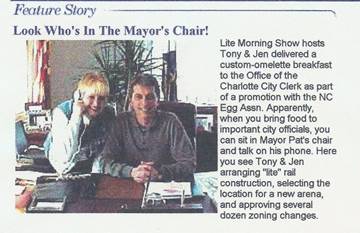 <![endif]>
You're Kidding, Right?
"We're sorry.  We ordered too much money, and now we've got to get it out of here before new money arrives!  Want some?  Just watch for us to flash your name on the screen tonight during Fox News Edge on Fox Charlotte.  Everything must go!  We're unloading this stuff a thousand dollars at a time!  Register for your free cash right now at foxcharlotte.com."
Makes Cents:
"Introducing a store where you'll find brand names like Levi, Guess, Liz Claiborne, Esprit, Calvin Klein, and Ralph Lauren.  A store where you'll find those brands at a fraction of their new cost.  Because, well, the stuff's not new!  The store is Sac's Thrift Avenue on Fruitridge, just 3 blocks east of 99.  It's Sacramento's most unusual thrift center.  On the outside, it looks like a fine new department store.  On the inside are outstanding bargains everyday on everything from designer jeans to designer jewelry, bats & balls to bicycles, TV sets to toys.  Why spend a fortune on clothes your kids will grow out of in just a year?  Shop for kids clothes the smart way at Sac's Thrift Avenue.  And stop in often because thousands of new items are brought out daily.  It really is a new store every day and you'll want to……"
Good Lookin':
(collaborated A LOT on logo, colors, and layout of outdoor campaign)…
<![if !vml]>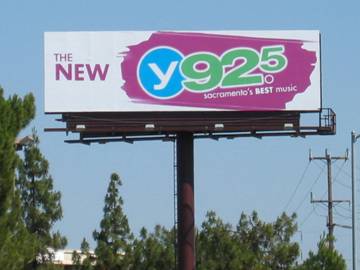 <![endif]>
Dog Talks on Radio:
"Hi, it's Mr. Unbelievable.  Yes, the DOG.  You've seen me on TV, at Toyota of Lake Norman, with the two humans who walk thru the giant inventory of new cars, trucks, and SUVs, carrying that wacky sign.  The one that says "toyota of lake norman dot com." You probably think I just sit there on the hood all day.  Hah!  I'm actually the finance manager.  Unbelievable!  And so are the prices at Toyota of Lake Norman."